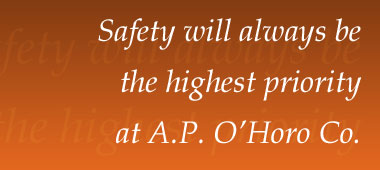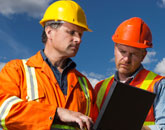 PLAN ROOM
Sub Contractors
The safety of our employees is an integral part of all construction activities at A.P. O'Horo Company. No schedule requirement can trump the need for safe work practices and a safe work environment.
To prevent injury, our employees undergo extensive training in these areas:
Fall protection

Struck-by hazards

Caught-in-between hazards

Proper electrical power usage

Confined space hazards

Injury/health risks due to extreme heat or cold
A.P. O'Horo is firmly committed to the requirements of Part 1926 and Part 1910 of the Code of Federal Regulations. We also review and conform to state, local or in-plant safety requirements — which may exceed OSHA requirements.
In-house training for all field and office supervisors is conducted on monthly basis. The topics of such in-house training address present and future hazards which have been identified by our field safety staff and the Safety Director.
In addition:
Field supervisors give a projection of safety challenges for the coming month and the means to be used to alleviate those challenges.

Senior management takes an active role in the conduct of supervisor training and to the monitoring of site safety practices.

Weekly "Tool Box Training" is conducted at the individual construction sites, with topics tailored to the specific jobsite.

Reportable injuries and "close calls" are reviewed with all supervisors on an annual basis, and recommendations as to injury elimination are solicited.

Hazard communication training, monitoring and record keeping are conducted on all job sites.